Candy of the Month: Chocolate Covered Pretzels
12-17-18
Are you looking for the perfect gift this holiday season? Our chocolate covered pretzels are the best choice for anyone on your list! That's why we've chosen them as our Candy of the Month for December.
When we first opened the candy store in Doylestown, PA, we hadn't made chocolate covered pretzels before. We soon learned that you can't have a candy store in Pennsylvania without pretzels! Rumor has it that Pennsylvanians eat twelve times as many pretzels as the average American. We believe it - they're always flying off the shelves!
If you're not sure what type of candy someone likes, we suggest gifting the classic milk and dark chocolate covered pretzels.

For Christmas, we also have white chocolate covered pretzels with festive sprinkles. These are a holiday favorite!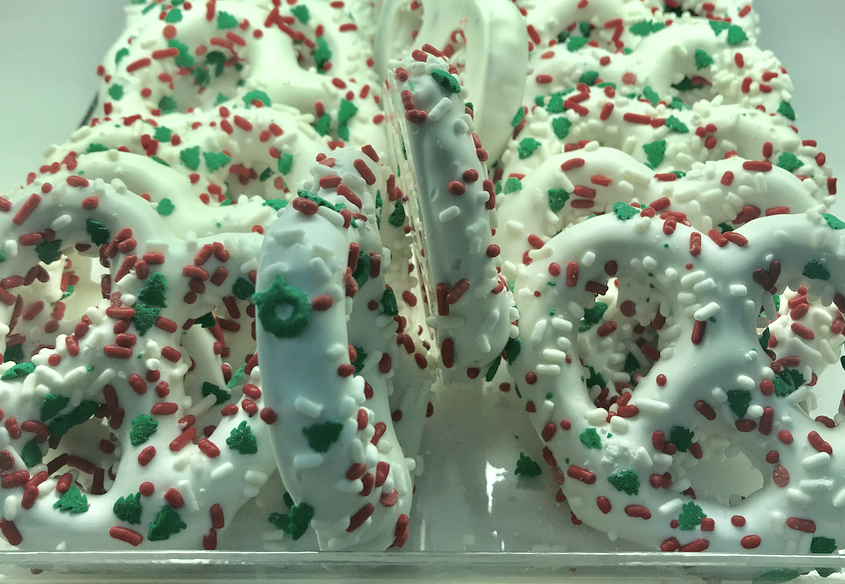 Don't live near one of our stores in Doylestown, PA or Ashburn, VA? We can ship to you! There's still time to order before Christmas! Click HERE to order our chocolate covered pretzels today.
In addition to regular chocolate covered pretzels, we also have pretzel rods available in chocolate dipped, chocolate and caramel dipped, and caramel/pecan/white chocolate. These make great stocking stuffers!
We love being able to make your holidays more delicious! Give us a call, stop in to one of our two stores, or order online today.

Happy Holidays!